How To Move Better, Look Better, Feel Better in 30 Days
The Most Effective Group Fitness, Nutrition and Lifestyle Program in the Kentuckiana for Busy People Just Like You, Who Want to Lose Weight and Look and Feel 10 Years Younger But Just Aren't Able to Do It on Their Own...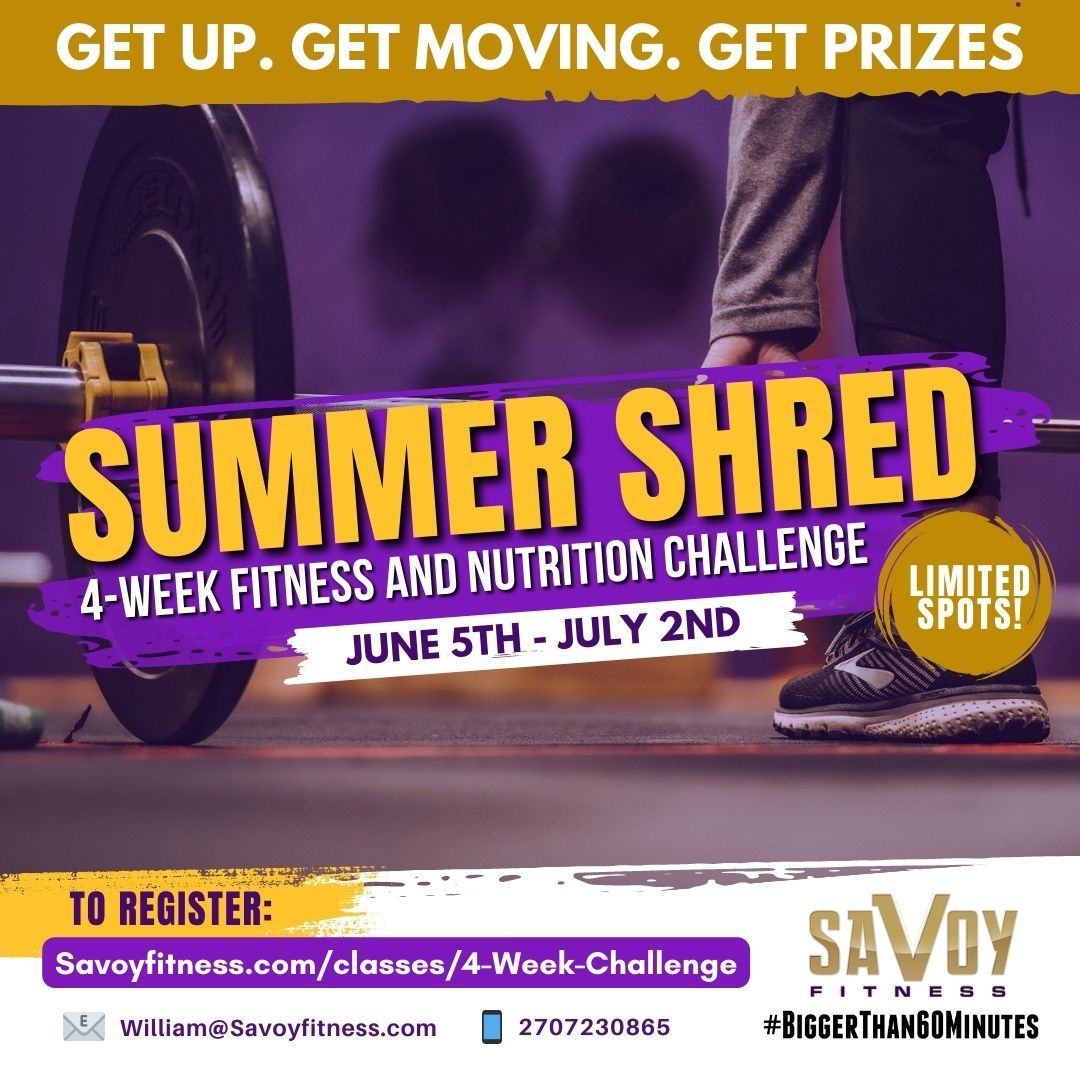 "Are you already stressing about wearing summer clothes?
Do you struggle with staying consistent to working out?
Have your 2023 new years resolutions come and gone without any progress?
Are you fed up and ready for a change?

Then you'll want to hear this.

Savoy Fitness is hosting a 28-Day Fitness and Nutrition Challenge that focuses on helping YOU become the healthiest version of yourself.

How? We have designed workouts and nutrition habits that are EASY to follow.

With our habit based approach, clients are losing 1lbs per week and 1% body fat per month.

That could be you.

We kick off on June 5th and only have room for 20 of the most motivated and excited people out there. Reserve your spot today and get ready to see some results…

A healthier and happier you is just around the corner."

Results You Can Expect With Our 4 Week Fitness and Nutrition Challenge
Yes, Results Are Expected. In Fact, They Are Guaranteed.
JUNE 5TH – JULY 2ND
Registration Now Open
Move Better, Gain Strength & Flexibility - By using the Functional Movement Screen, your individualized program is designed to improve your "movement health". Movement health allows us to improve our mobility and stability and improve the full range of motion necessary for everyday activities.
Look Better, Decrease Body Fat & Inches - Success is measured by more than just the number on the scale. We specialize in body transformation, meaning you won't just lose pounds, but also completely reshape your body. We track this through pictures, body fat % and clothing sizes.
Feel Better, More Energy & Confidence - Any workout can make you tired, but only a great workout with a great coach can make you better. A fit and healthy lifestyle goes way beyond just a workout. We focus on the whole person. We believe that you should always leave the gym feeling better and more energized than when you came.
Here's What You Get During the

4 Week Fitness and Nutrition
4 Week Fitness and Nutrition
1 Simple Payment of $139 for current members and $175 for non members
Frequently Asked Questions
Q: When is the challenge?
June 5th - July 2nd. Must attend group Orientation + Weigh In prior
Q: What and when is Orientation + Weigh In?

The purpose of the Orientation is to learn the details of the challenge such as how to follow the meal plan, what the weekly tasks are, outline your goals, etc. You will receive an InBody scan during your individual meeting and your final InBody Scan June 3rd at 10:00 AM.
Q: What if I can't make the orientation and/or the Weigh In?
We will schedule a private session, but it is in our best interest for you to be at the orientation.
Q: What is the registration fee?
Current Members $139 (Email us to register) and Non-Members $175
Q: Who will support us and how will they support us?

William and Ruby will lead the challenge. They will make sure everyone is on track to get their weekly tasks done and answer questions about nutrition and exercises.

Q: Who is this challenge for?

This program is for busy folks who are tired of the way they look and feel and tired of not getting results with their current routine. If you are nervous about starting and needing the guidance of a coach and a program that will meet you where you are, then this program is for you.
Q: What if I haven't exercised in years and I'm out of shape?

You don't have to be in shape to get in shape! This program is for all levels of fitness as long as you aren't afraid of a little hard work. The coach will help you pace yourself in every session, and we will modify for all ability levels. We don't follow the "no pain – no gain" mentality. Fitness is a lifestyle, not a quick fix, so working smart and making consistent progress is key to your long-term success.
Q: What type of results should I Except?
Common results during a 4-week challenge include:

Losing 8-12 lbs
Dropping 1-2 pant sizes
Tighter stomach, thighs, and arms
Getting stronger and moving better
Increased energy all day long
Better Sleep
Decreased pain
Improved strength and endurance
Clothes fitting better
Increased confidence
Feeling proud because you've finally done something for your fitness
Q: How is the winner determined?

Winner is determined by the biggest percentage change of their InBody scan and who has the best adherence to their daily tasks and weekly mini challenge tasks.
Q: How do I complete the weekly fitness challenge? Do I need to record myself completing this activity?

The weekly fitness challenge is designed to give you extra cardio and core work. It is best to break it up in manageable pieces after your four weekly class requirements. Example: If I have a 200 calorie row and have to attend four classes a week, I will complete 50 calories before and after each class. You do not need to record yourself as we complete an honor system. You will need to update the whiteboard in the gym.
Q: How many winners will be acknowledged?

There will be weekly winners and 1 grand prize winner.
Q: What is different from the last challenge?
What's New:
1 Page Meal Guide
Grocery List
New Challenges
More Support via UpLaunch
Q: I don't have a lot of weight to lose, can I still join the challenge?

Yes! You certainly can! You don't have to have a lot of weight to lose to participate in this challenge. We all need a jump start and can use the support of a challenge to break through a plateau or just have the extra guidance, accountability, and camaraderie at Savoy Fitness to get to your goals. Also our InBody measures the change in lean mass gain.
Q: What does this program Include?

Orientation + InBody Weigh In and Weigh Out
Unlimited Daily Classes (Bootcamp and CrossFit)
Meal Guide + Grocery List
Weekly Fitness Challenge + Attendance Check Ins
Accountability and Support
Discount for Members who Bring a Friend
Here's What People Saying About Savoy Fitness