Why Your New Year's Resolutions Fail
Many people set multiple resolutions for the New Year and then feel defeated in February when they aren't as close or finished with the goals they've set. Goals need to be well-thought out so they can be completed.
Here are a few reasons you're not achieving your resolutions.
You know your what, but not your why
You don't enjoy the process
You don't track your progress
No social support (accountability challenge
---
You Know Your What, But Not Your Why
Have you ever heard the phrase "put the cart before the horse?" When you put the cart before the horse, you essentially are confusing cause and effect. A great way to avoid this confusion is to know your what AND your why.
Here's an example: I want to lose weight.
This is a goal, but when we hear this, we want to know WHY. What has happened to you that has started your journey into losing weight. Is it to be able to have more energy to play with your grandkids? Is it a medical or health issue? Is it purely for aesthetic reasons?
No matter the reason of WHY, it's important you know it. Without your WHY, you most likely won't complete your goal, and you will find yourself less likely to set future goals.
---
You Don't Enjoy The Process
One of the best parts about setting a goal is the journey. You'll learn more from your journey to success than from the check mark on the PR board you'll receive as a reward. What ultimately makes you who you are and shapes your journey are all the little decisions you make.
On a journey, you experience growth and improvement. What struggles and successes you face ultimately teach you more than just being able to check off one goal.
When you create a goal, make it a SMART one.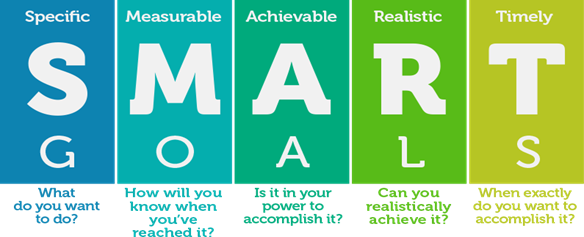 ---
You Don't Track Your Progress
Two important terms in the acronym SMART stands for Specific and Timely; this means your goal should have one end in sight and know the timeline to accomplish it.
Here is an example of a specific and timely goal for getting your first double under.
Goal: Get one double under in 2 months.
Let's break this down.
You're comfortable doing 50 singles unbroken, so you want to try for some double unders. Spend 15 minutes after class 3 days a week with some drills. Working on quick wrist flicks doing singles and working on consistently jumping higher are two great drills to get your first double unders. Gradually move up to single-single-double attempts. Stop before you get too frustrated.
Journal after each week and see your improvement!
---
No Social Support
Lastly, we come to a lack of social support. This one can set back even the most self-motivated person.
Without a system to hold yourself accountable or just a friend to check in with you, goals may get pushed aside. We have found that having ONE person who will ultimately be in your corner leads to a higher success rate in any goal set.
Lucky for you, we can help! At Savoy, we want to see every one of our clients succeed, inside the gym and out.
We are hosting our "Game of Fitness" Accountability Challenge starting on January 6, 2020. This challenge will put you on a team with a specific coach who will provide workouts, meal plans, tips on staying accountable, and much more.
There is no better time to come in and see how we can help you finally fulfill those New Year's Resolutions!
---
Why Savoy?
Many times, people walk in our doors completely unsure of what their goals are. That's why we've created our success sessions to help pin-point those goals and create a plan to crush them.
Our goal is to help you "see results in four hours or less in a workweek with proper nutrition and proper training."
Here are our 3 programs:
Boot Camp: Here we aim to help beginners and advanced athletes burn fat and lose weight.
Strength / CrossFit: Our classes aim to push you in workouts to build muscle and gain muscle tone.
Personal Training: This is our one-on-one coaching session with people who are looking to enhance their results and have an individual coach work with them.
Watch our video and contact us for your FREE Success Session!
Sports Performance Program
If you have a child who is looking for a sport-driven performance program, come check out our sports performance program, offered at BOTH locations!
This program is for kids who are looking to up their abilities in their specific sport. Our program is designed to help hone in skills that will allow young and older athletes assistance to excel and increase the likelihood of receiving scholarship assistance.
If you are interested in our staff working to take your team or individual athlete to the next level, contact us!
We are a private gym who wants to give each client the attention they need to reach their goals, so space in this special program is limited. Check out our class schedules and stop by to see us!